Description and Features
The 8258 BLE5.1/15.4 chip with internal Flash and audio support combines the features and functions needed for all 2.4GHz IoT standards. It supports standards and industrial alliance specifications including BLE 5.0 with up to 8 antenna indoor positioning support, BLE Mesh, Zigbee, RF4CE, HomeKit, 6LoWPAN, Thread, ANT and 2.4GHz proprietary standard. For some use cases, the 8258 supports concurrent multi-standards.
The 8258 integrates strong 32-bit MCU, BLE/802.15.4/2.4GHz Radio, 64kB SRAM, 512kB Flash, 14bit ADC with PGA, Analog and Digital Microphone input, stereo audio output, 6-channel PWM, one quadrature decoder (QDEC), flexible IO interfaces, and other peripheral blocks required for IoT (Internet of Things) applications. The 8258 also includes multi-stage power management design allowing ultra-low power operation and making it the ideal candidate for wearable and power-constraint applications.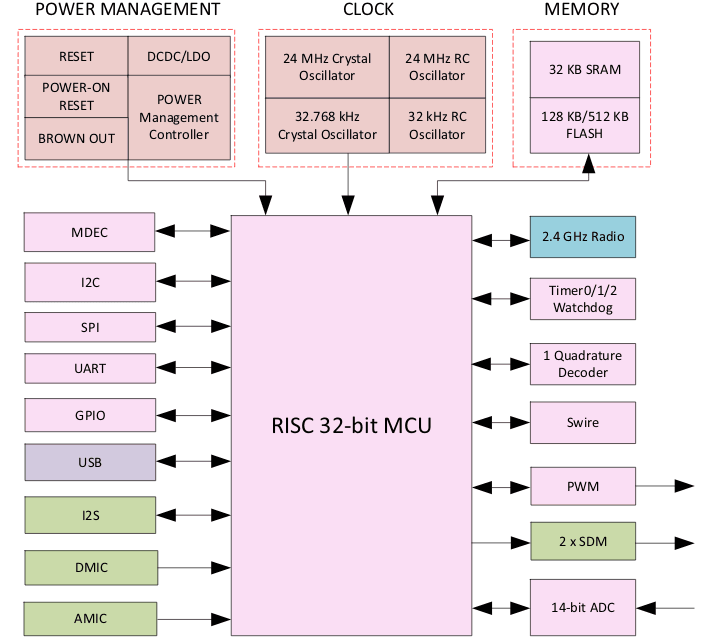 Features
Key features:
32bit proprietary MCU: Better power performance then ARM M0 with max speed of 48Mhz
Memory: Program memory: 512kB Flash,64kB on-chip SRAM with up to 32kB retention
RF transceiver:

BLE 5.1 Compliant, 1Mbps,2Mbps, Long Range 125kbps and 500kbps
2.4GHz proprietary 1Mbps/2Mbps/250kbps/500kbps mode with Adaptive Frequency Hopping feature
15.4 compliant, 250kbps
Support full-function BLE location features, angled based positioning with up to 8x antennas
Rx Sensitivity: -97dBm@BLE 1Mbps, -100dBm@ IEEE802.15.4 250kbps, -94dBm@ BLE 2Mbps mode, Tx output power: upto +10dBm
Power management: Power supply of 1.8V~3.6V with Battery monitor for low battery voltage detection and Brownout detection/shutoff and Power-On-Reset
Power performance :

Transceiver RX mode: 6.7mA without DCDC,3.68mA with DCDC
Transceiver TX mode (with modem): 6.5mA@ 0dBm without DCDC, 3.57mA with DCDC
Deepsleep with SRAM retention ~1uA
Digital and analog interfaces:

Up to 32/17/10 GPIOs depending on package option
DMIC (Digital Mic), Dual AMIC (Analog Mic),I2S, Stereo Audio output
SPI, I2C, USB, Swire, UART with hardware flow control and 7816 protocol support
Up to 6 channels of differential PWM
IR transmitter with DMA
One quadrature decoder, two-phase input selectable from 8 pins
10-channel (only GPIO input), 14-bit ADC
4-channel PGA, differential input
Low power comparator
Hardware OTA upgrade and multiple bootswitch, allowing convenient product feature roll outs and upgrades
Operating temperature: -40℃~+85℃ (ETversions) or -40℃~ +125℃ (AT versions)
Package:

8258F512ET/AT48/ 48-pin QFN 7×7mm
8258F512ET/AT32/ 32-pin QFN 5×5mm
8258F512ET24/, 24-pin QFN 4×4mm

Development tools include EVB, reference design and SDK for customers to perform evaluation, quick application prototyping and firmware development.
Applications:
Smartphone and tablet accessories
RF Remote Control
Sports and fitness tracking
Wearable devices
Wireless toys
Smart Lighting, Smart Home devices
Building Automation
Smart Grid
Intelligent Logistics/Transportation/City
Consumer Electronics
Industrial Control
Health Care