T2M › Applications › PC Peripherals (HID)
PC Peripherals (HID)
Description and Features
Based on the high performance 2.4GHz RF SoC Series 2-in-1 wireless mouse and keyboard solutions offer multiple benefits including: high level of integration, abundant features and functions, general system compatibility, excellent RF performance with long communication range, low voltage alarm, multiple stage power management to minimize power consumption, and few BOM components. Wireless mouse supports six-button and wheel operation, main stream types of sensors, and three selectable power-saving modes. Wireless keyboard supports customizable keyboard matrix, extensible multifunctional keys, flexible Fn key combination, indicating lights and ghost key avoidance.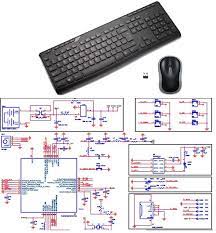 Features
Adaptive frequency hopping: multi-frequency points supported inside 2.4GHz ISM band
Channel bandwidth: 2MHz.
USB interface: compatible with USB 2.0 Full Speed mode.
System compatibility: WinXP/Win7/Win8/Linux/Mac OS.
Long communication distance: >20m.
Support single battery or dual battery for power supply.
Mouse Features:

Compatible with sensors frommainstream providers: Pixart,Avago, Sigma, NST, Elan, etc
Support 6-button operation: Left button, right button, middle button, forward button, back button, and DPI selection button.
Support low-voltage alarm function: the threshold is 0.95V (single battery for power supply) or 1.9V (dual battery for power supply).
Support three types of power saving modes: Normal mode; Suspend mode; Deep sleep mode.

Keyboard Features:

Support a magnitude of multifunctional keys, including multimedia control, web control, application shortcut keys (e.g. "calculator" and "my computer").
Support Fn keys combination with customizable function definition.
Support ghost key avoidance.
Support function of four indicating lights: low-voltage alarm indicating light, Caps Lock indicating light, Num Lock indicating light and Scroll Lock indicating light.
Anti-locking design is selectable depending on customer's requirement.
Deep sleep mode is available to save power consumption.
Keyboard matrix is customizable depending on customer's requirement.
Support low-voltage alarm:the threshold is about 0.9V (single battery for power supply, deviation range is within ±20mV)/2.0V (dual battery for power supply)