Description and Features
With the widespread of Internet based smart TVs and Over-the-top boxes, smart remote control has become an integral part of the user experience. An advanced smart remote control replaces the traditional IR with RF connections for better range, non-line-of-sight connection, and much higher data rate; the smart remote control allows rich functions and features for not only basic TV/Box operation but also abundance of games, apps, and services. Based on the high performance BLE, RF4CE, or 2.4Ghz series RF SoC, our remote control solution offers multiple benefits including: high level of integration, excellent RF performance, low power consumption, and ultra low BOM component counts.
Complete Spectrum of Solutions
● High end: (BLE SoC + Sensor):Air-Mouse/Gesture + Audio + RF
● Mid end:(BLE SoC):Audio + RF
● Low end: (BLE SoC) : RF + Key only + IR
● Modularized design for all features allowing easy mix and match
Remote Control Audio key word search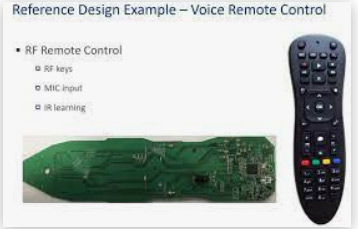 ● Audio Codec (no need for external audio Codec)
Support both D-MIC and A-MIC
No need for external speaker amplifier
● Duplex audio supported on single chip
Allows for Headphones on RCU with minimal BOM increase
● OTA voice data compression
ADPCM
MSBC (available in prototype)
Support for RF4CE and BLE stacks at the same time
- Manual switch mode: Independent application states between RF4CE and BLE
● External triggers such as special key combinations can be used to switch between two protocols
Automatic mode:
● RCU shipped from factory with support for both RF4CE and BLE
● When powered up, RCU automatically searches for either RF4CE STB or BLE STB/TV to pair with
● Once paired the RCU works in the paired mode until factory reset again The Remote control solution can support various peripherals, a selection table is shown as follows.
Features
Features and Benefits:
Supports one-way or both-way voice functions
Supports tens of buttons
Excellent RF performance

Key press distance > 30m
Audio distance > 10m
Six-fold anti-interference mechanism: interference avoidance; adaptive frequency hopping; adaptive retransmission mechanism; spread-spectrum modulation; patented frequency backup technology; advanced error correction coding, supports IR remote control and learning.
Ultra-low power consumption
Motion control
Digital microphone

High SNR (Signal-to-noise ratio)
Powerful anti-interference performance
Good consistency
Advanced wireless audio transmission technology

Adaptive audio compression technology
Reliable RF link protection: retransmission, error correction code
Configurable uplink and downlink bit rate for different applications