Description and Features
TalkTo™ is an audio SW, provides exceptional barge-in performance, in high-noise environments, significantly improving Wake Word Engine (WWE) and Voice Services performance. TalkTo™ Mono, stereo, and multichannel playback Proprietary Adaptive Interference Canceller (AIC).
Integrated inside TalkTo™ is Adaptive interference canceller(AIC), Acoustic Echo Canceller(AEC), multi-channel speaker noise and open wake word API, and significantly exceeds Google ART requirements.
TalkTo™ is a suite of proprietary Machine Learning & Microphone Processing algorithms that delivers a quiet-room experience in the noisy & unpredictable spaces of everyday life.
Multichannel Acoustic Eco canceler (AEC) (N-channel) 360-degree operation Linux, Android, & RTOS Wake-word & Ecosystem independent Unequaled far-field performance passes Google Assistant, Alexa Mobile Accessory (AMA) and Amazon Alexa Voice Service (AVS) 2.1 Premium Test . Reports are available under NDA.
This software is used in millions of devices in the consumer, mobile and automotive industry.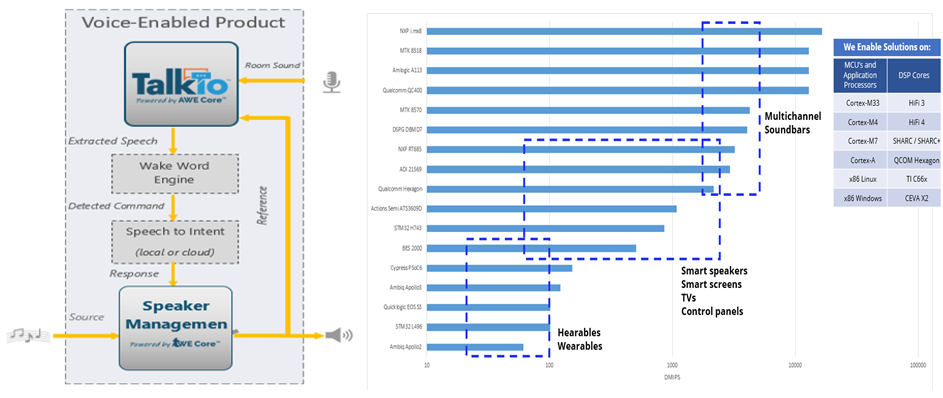 Features
Integrate or Create advanced audio features
Realtime Interface for design and debug
Open APIs for external tools and scripting
Includes Native Target with AWE Core for Windows
AWE Core All-in-one Audio Processing Engine
Reconfigurable Audio-Pipeline
400+ Audio Building-blocks
Processor & OS Agnostic
Open APIs & Extensible with 3rd party building-blocks
Technology that out-performs the human ear
Improved WWE and Voice Services performance
Comprehensive debugging environment to resolve difficult system audio issues in record time
Expertise to help you pass Amazon Alexa Voice Service (AVS) certification
DSPC audio-labs available for Amazon Alexa Voice Service (AVS) benchmarking
Voice & Speaker processing on the same processor